India News
Trending
Nepal PM Pushpa Kamal Dahal leaves India from Delhi after visiting Indore.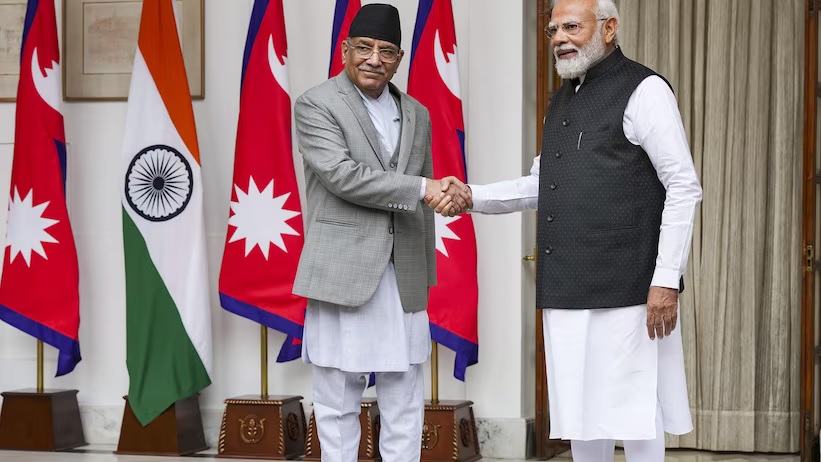 Since assuming power in December 2022, Nepal's Prime Minister, Pushpa Kamal Dahal 'Prachanda,' has emphasized the importance of maintaining balanced and trustworthy relations with India, without making any major shifts in approach. In a noteworthy diplomatic step, Prime Minister Dahal undertook a four-day visit to New Delhi starting from May 31st. This visit holds great significance as it highlights the historical ties between Nepal and India and represents a departure from his previous stance. Despite being perceived as pro-China by many, Prachanda's visit to India conveys a powerful message, underscoring the enduring bond between Nepal and its closest and strongest partner.
The primary focus of the new government under Prachanda's leadership is to establish balanced and trustworthy ties with India, while maintaining good relations with both countries. Prime Minister Narendra Modi was one of the first people to congratulate Pushpa Kumar Dahal on becoming the new government's leader in Nepal. This shows the friendly relationship between India and Nepal. Both sides expressed excitement about working together and recognized the natural affinity and strong bilateral relations that exist between India and Nepal.
During his visit, Nepal PM Dahal aims to reinforce the longstanding and multifaceted relations between the two nations, emphasizing mutual respect, cooperation, and sovereign equality. India and Nepal share deep religious, cultural, economic, and political ties that span centuries. The two countries not only have open borders but also witness unrestricted movement between their people, who have forged relations through marriage and familial bonds. India's involvement in Nepal is guided by the principles of "Vasudhaiva Kutumbakam" (the world is one family) and the policy of "Neighborhood First." India's main focus has been to support Nepal's development through aid and grants for infrastructure development, cultural linkages, and improving human development indicators, as well as providing assistance during times of adversity such as the 2015 earthquake.
Cooperation between India and Nepal is already evident in various developmental projects. For instance, the Ramayana Circuit project has connected multiple sites in both countries. Additionally, collaborations in the fields of education and cultural exchange are flourishing. Efforts are being made to develop the West Seti hydropower project in Nepal, and collaborations between Indian and Nepali universities are facilitating joint degree programs. Furthermore, initiatives such as the establishment of a Dr. Ambedkar Chair for Buddhist Studies demonstrate the commitment to strengthening ties between the two countries.
The hydropower sector plays a vital role in India-Nepal cooperation and is considered a catalyst for enhancing bilateral relations. Several projects, including the Arun III and Upper Karnali projects, are progressing with the involvement of Indian companies. Nepal has also started exporting electricity to India, further enhancing energy cooperation between the two nations.
To address concerns regarding Nepal's trade deficit with India, Prime Minister Prachanda has requested non-reciprocal market access for Nepal's agricultural products and simplified Rules of Origin for other goods. Discussions have also taken place regarding the establishment of testing laboratories and the mutual recognition of test certificates. Moreover, efforts are being made to lift the anti-dumping duty on Nepali jute products, with an emphasis on creating a conducive trade environment.
India and Nepal have a special bond that goes beyond just being diplomatic partners. They have a strong connection based on respect, equal rights, a shared history, and rich cultural ties. India's unwavering commitment to treating Nepal differently highlights the deep and longstanding connections between the two countries, which have evolved over many centuries. The recent visit by India's Foreign Secretary to Nepal further highlights India's prioritization of nurturing and strengthening its relationship with Nepal. As collaboration and cooperation continue to progress, India and Nepal are poised to navigate the future together, fostering a bond based not only on strategic interests but also on shared values and the people-to-people connect between the two nations.